About Fukutoku Jinja Shrine
(Mebuki Inari)
Although it is unclear as to when this shrine was built, based on summary accounts, enshrinement had already taken place here between 859 and 876 AD.
The original main building was magnificent, and the shrine grounds covered a large area surrounded by forests and fields in a part of remote countryside sparsely populated by farmers. It was enshrined as a shrine worshipping Inari (a Japanese deity of foxes and fortune) for the Fukutoku village of the Musashino rural community, so that is where it took its name from.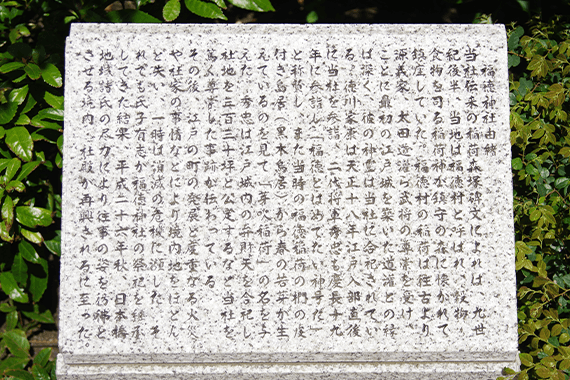 The copy of the monument name is as follows.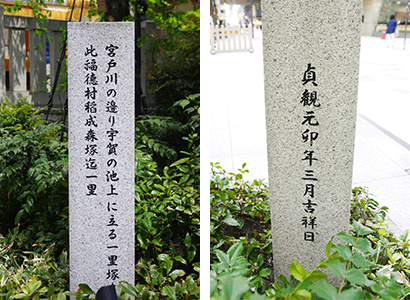 This shrine originally had a strong following with military commanders, and on August 8th, 1590, the first shogun Tokugawa Ieyasu came to Edo (ancient Tokyo), where he first made his pilgrimage to the shrine in that same August. From that day forth he would go on to visit the shrine many more times.
Enshrined deities
Deity of primary worship
Uka-no-Mitama-no-Mikoto
– Deity who presides over grain
List of those enshrined together around the Edo Period
Ota Dokan
– A military commander from the Warring States Period. He built the Edo Castle.
Benzaiten
– A Hindu deity. She was ceremonially transferred from Edo castle.
Tokugawa Ieyasu
– He is the Supreme Authority over Tosho-gu Shrine.
He established the Tokugawa Shogunate in Edo.